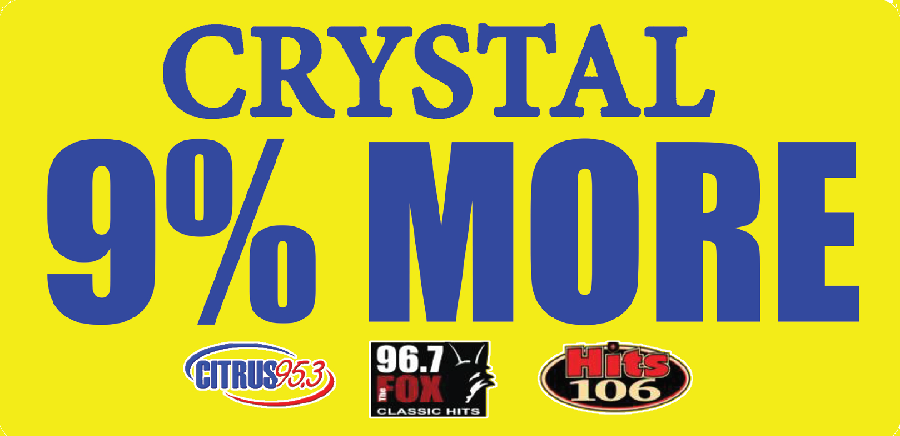 The 9% MORE CASH GIVEAWAY GROWS TO ALMOST $35,000!
RULES AND REGULATIONS
FOR 9% STICKER CASH CONTEST
This contest is conducted as a joint promotion between Crystal Automotive Group and radio station WGHR FM; WXCV FM; & WXOF FM.  This contest awards cash prizes to winners who have place a 9% MORE window sticker on their vehicle.
Eligibility:  Contestants become eligible by picking up their 9% MORE sticker at any of the advertised locations or at one of the events hosted by the radio stations.  EMPLOYEES OF WGHR; WXOF; WXCV OR ANY OF THE CRYSTAL COMPANIES AND THEIR IMMEDIATE FAMILIES SHALL BE INELIGIBLE TO ENTER OR WIN.
Mechanics of contest:  Contestants will be instructed to place the sticker in the lower corner of their rear window, or on their bumper.  At the time of sticker pick-up, contestants will be asked to register, providing their name,; address; phone; email as well as make and model of vehicle and license plate number.  These registrations will be utilized to cross reference spotted plates to notify cash winners.  Additionally, names will be drawn from these entries for random "instant cash" winners.
Prize redemption:  The term "cash" prizes is used in this promotion, however the companies reserve the right to issue prize payments as a check, redeemable at nay bank or savings institution.  Winners must display their sticker PERMANENTLY AFFIXED to their vehicle at the time of redemption. Winners agree to record audio or video as requested as prize winners.
Multiple entries:  This contest is based on the premise and requirement of one (1) sticker per vehicle, and one (1) corresponding entry at the time of sticker pick up.  Any contestant attempting to submit multiple entries per vehicle will immediately be disqualified from this contest.  However, households with more than one vehicle may register for each vehicle, as long as a sticker is displayed on each vehicle entered.
On Saturday June 10th, 2017 all contestants displaying a 9% MORE sticker on their vehicle will be instructed to gather at a specified Crystal location.  Upon arrival each driver of a car bearing a PERMANENTLY AFFIXED sticker will receive ONE (1) official entry for the Grand Prize drawings.  AT the specified time, three winners names will be drawn.  The 1st prize winner will receive $ 2,500.00.  The 2nd prize winner will receive $ 1500.00 and the 3rd prize winner will receive $ 1,000.00.  For these Grand Prize winners contestants MUST BE PRESENT TO WIN.
Right to modify rules and select winners:  The companies presenting this contest reserve the right to modify rules and dates in the event of irregularities, and reserve the exclusive right to select and name all winners.  Winners will be selected in a fair, random, and impartial manner.